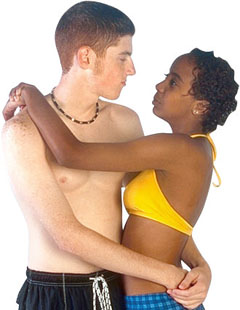 Love is free and touch is priceless……..As we are living in a society that takes touch and love for granted its up to us progressive lovers to teach the meaning of love and connection.
Have you ever walked down the streets of a busy city so close to the person next to you that you can smell their scent but don't dare touch them or bump into them…. A  look and a need to apologize will result from such behavior. We're so afraid to touch and be touched in this society. Touch or simply brush skin with another human being, and we feel intruded. We're such believers of "personal space" who came up with this concept anyway???? It took me so long to understand it…..
I came to the States from South America when I was 16. Grew up touching and holding hands with my friends. If my new friend wanted to walk to the store we would hold hands and head on over. No personal space mentioned. When we spoke to each other back at home  we were close and in our faces. And no it didn't mean cause for a fight. I thought perhaps this was a Spanish/ latin thing to do. I went to Africa a few years ago to find more of the same. Holding and touching and speaking to you so close you can feel every word. So beautiful to feel the vibrations of others words in your heart…. It was a culture shock getting acquainted with western separation.
As a Progressive Lover I'm getting back to my roots. Touching and rubbing a mans back, even if I have no sexual interest. Holding a girlfriends hand as we talk. It makes them uncomfortable in the beginning but seem to embrace it as the conversation flows. it's part of our healing ways. To touch and lead people to a better world.
So feel free to touch or hug me next time you see me. I have no personal space I have a public space.  It is the space where all human life connects to one another… it is the great oneness.
Welcoming your comments,
Jhos the Diva